A Different take on slots - Cascading Reels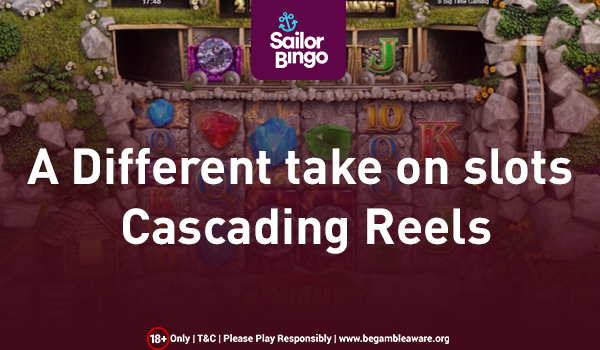 Cascading reels is a feature where symbols fall into place on the reels. It has become very popular in the UK and is a fun and exciting new way to play online slots in a casino.
This casino guide will explain to you everything about the cascading reels. So, read on!
What are Cascading Reels?
Cascading reels is also known by different names like falling reels, rolling reels, etc. It is really a different way of presenting the symbols. The symbols explode when you land on a winning line and new symbols fall down. Hence, in theory, you can go on forever playing until you make a winning line. The replaced symbols give you more chances of winning. This is what makes rolling reels so popular because you never know how far you can go with a single spin. Players can also get lucky by getting a prize multiplier with their successive wins. This also has a free spins function and you can trigger this feature with every falling symbol. Gonzo's Quest is a famous slot that uses this function and it has become the face of rolling reels.
The evolution
Cascading reels are becoming popular in online casinos offering games like online slots and scratch cards. Game providers come up with a new version of the original game to take a piece of the action. For instance, NetEnt has added a new dimension to their swirly spin with a snake-shaped game screen. You have to move the key to the middle and get winning lines. The bonus feature will unlock when you manage to do this. Other slot games use a multiplier with every winning line you get and in Big Bad Wolf you will unlock extra wilds when you win.
Benefits of cascading reels
More excitement: The action can be crazy with consecutive wins and if you're lucky, you can hit five winners in a row for the price of one.
Better animation and graphics: Most falling reels feature some of the best 3D graphics and animations. This is one reason to play cascading reels.
Prize multipliers: Multiplier trails increase your prize multipliers after every spin.
The extra chance of hitting scatters: With most cascading reels, you will be able to trigger free spins or bonus rounds by landing scatters.
Cascading Reels VS. Standard Reels
There is a big difference between slots that include standard spinning reels and slots that include cascading reels. The falling reels provide a better appearance and animation which makes them more appealing than the standard one. As mentioned previously, this gives you a bit more opportunity to create consecutive winning combinations and the possibility to trigger more in-game features from a single spin.
The best online slots
If you want to try your hand at online slots, Sailor Bingo offers some of the best and most entertaining games. You will find a great range of slots with different themes, attractive graphics, different gameplay options and low to high variance games to cater for any preference.