Get £1000 Sliding Jackpot on 90 Ball Big Ben
When it comes to the online bingo games, 90 Ball Big Ben is quite popular among them. And now you have more reasons to smile when you play this wonderful game! To make your playing experience more special, Sailor Bingo now presents to you some of the best promotions and gifts that you could ever imagine this Christmas! You have a chance to win a whopping £1000 Sliding Jackpot if you play 90 ball:
Big Ben
bingo game. Isn't that something to get overjoyed in the festive season? So, what are you waiting for? Come and play this cool game and enjoy galore with the
promotions
!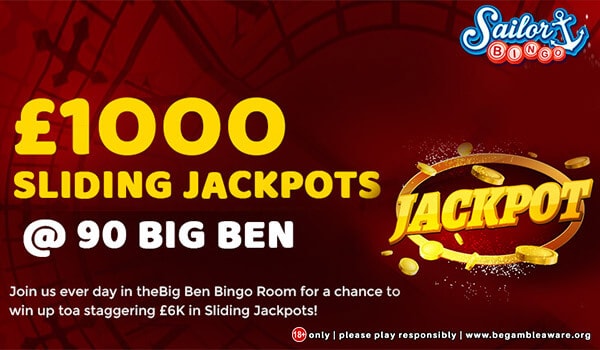 Make your Christmas celebrations bigger with the sliding jackpot promotions
In order to win this fabulous promotion, you just need to join the Big Ben Bingo games Room and start playing. You will be quite surprised to know that you can start playing by depositing just 10p. Well, isn't that something quite attractive and lucrative? By paying a meagre amount of just 10p, you have a chance to win a staggering reward of £6K. What more can you ask for! The prize money starts from a whopping £1000 and goes up to an unbelievable £6K. That is perhaps a dream for all users who play bingo games to win big.
The minimum prize guaranteed in 90 Ball Big Ben bingo game is £50
Even if you are not lucky, the minimum prize that you are guaranteed to win is £50. So there is always some scope to smile this Christmas season. With one game taking place every top of the hour, there is massive opportunity to get lucky. And that's not all! The promotions are offered on all days of the week, starting from 6 PM and going up to 11 PM. So, you have a full quota of 5 hours to try your luck, seven days a week! You also have the option to pre-buy your booking to the games in order to avoid the mad rush of players at the last minute.
Sailor Bingo believes in transparency and fair play and so has laid down the basic gaming rules for you to be aware of. Accordingly, you can devise the gaming strategies in order to maximise your gains. The prizes and rewards related to the bingo games calls have been provided below:
Up to 23 bingo calls: £1000
24-26 bingo calls: £900
27-29 bingo calls: £800
30-32 bingo calls: £700
33-35 bingo calls: £600
36-38 bingo calls: £500
39-40 bingo calls: £400
41-42 bingo calls: £300
43-44 bingo calls: £200
45-47 bingo calls: £100
47-48 bingo calls: £75
49-50 bingo calls: £50
To play 90 Ball Big Ben bingo game and to avail the promotions, you need to abide by certain regulations. These are part of the fair and transparent gaming process. Players only over 18 years can take part in the game. The management also has the right to remove the promotion at any point in time.