How Paylines Works in Slot Machines?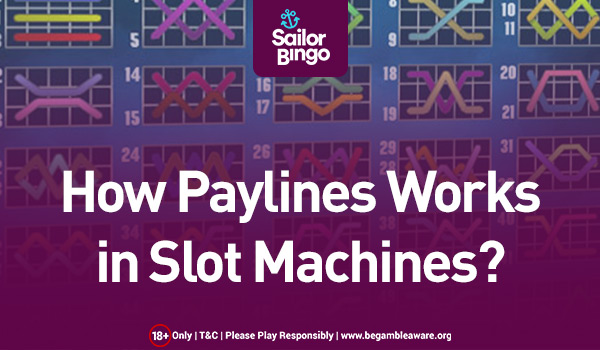 In slot machines, if you get a combination of symbols aligned horizontally, you win! Simple right? And that is what we call a payline. Earlier, the slot machines were used to have a single payline structure, but now with the advancement in technology and in the gambling sector, slot games offer multiple payline. Now they can be achieved in several patterns that get displayed on the screen before you start to play.
How do they work?
Nowadays, slot machines have introduced various patterns to let you win at the slot game. If the combination of signals falls horizontally, vertically, diagonally, in a zig-zag, or in any pattern which gets displayed on the screen, you may win the game if you have placed a bet on it. Paylines in slot machines can be adjustable, while at some machines, it remains fixed. Slot machines with adjustable paylines can let you specify the number of paylines you want to keep your bet upon. Machines with fixed payline structure either let you bet on every payline or at nothing.
Betting on paylines
With funny themes and amazing graphics, slots are the most colourful and imaginative games. Without any fuss of counting cards, arithmetic, myths, and rules, one might feel tempted to start betting on paylines without giving careful consideration. Online slots are a modular version of classic brick and mortar casino table games, and hence the principles remain the same. The game is designed to make profits to users but more profits to the game developers and hence, it is advised to keep an eye on your bankroll before getting too excited to bet on the next. Each line costs a cent, and if you bet at each of them, the spin can cost you some decent money.
Because the slot machines come with two variants, one with fixed payline structure and the other being the adjustable one, it is advisable to take advantage of the other variant and choose carefully to select the number of paylines you want to play. The less you play, the less you will win, but the lesser will be the cost of the spin. And if you are a newbie, you should not mind the fewer winnings as they help you to understand the game better.
Check the Paytable
The main display screen of the slot machines offers various options through which you can access the winning combination, the progress of your game sessions and the payline you would next bet upon. Apart from that, the paytable option can also be accessed from the main display screen. This gives information about the game rules, payouts, extra bonus, and free spins available. Familiarising yourself with the paytable updates can help you to speed up your game.
Discover exciting online slots at Sailor Bingo!
Sailor Bingo features top-class online slot games with mesmerising gameplay features and bonuses. Visit the casino today and begin your online gaming adventure instantly! Hurry!