How to Play European Roulette Pro
Gamblers play to win and naturally want to learn every tip that can lead to their winning. All games have rules and features that you should know before you embark on actually playing them, for the simple reason to win. European Roulette is an enjoyable and an amazing casino game to play. It is available to play at our
online bingo
. The climax of playing it is when you win big while you spend your bets judiciously. Continue reading to understand the game and its rules.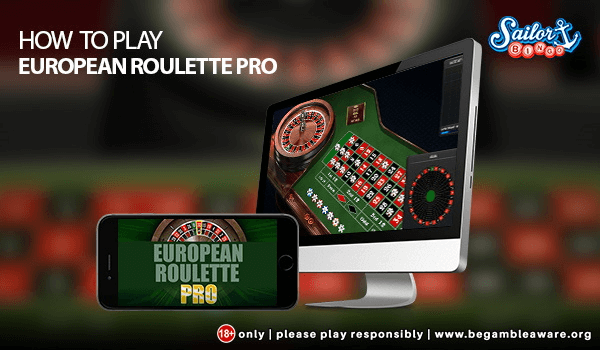 Understanding European Roulette
This casino game is played using a wheel that has 37 numbered slots on it. The numbers are from 1 to 36, plus a zero. There is also a ball that you will use to bet, and a table or layout where you will place your chips. To play, the wheel is spun and in turn, it makes the ball to roll and bump around it. After the wheel spin is complete, the ball will bump around and eventually land in a pot. If the number where it lands corresponds to the one that a player had placed his or her chips on, they win. The win is based on the bet amount that a player may have placed.
Every chip has a given value, and it will be used to calculate the total amount of winnings that a player will have made.
Playing European Roulette
When you access your Sailor Bingo account and open this game:
Choose the amount you want to bet on by clicking the chip with the denomination you want. The denominations are from 0.1, 0.5, 1, 5, 25, 100, 500, 1K and 5K dollars.
After chip selection, you then place your bets by choosing the appropriate wagering spots on the betting table or Racetrack Betting Area
The Racetrack button opens the racetrack by sliding in or out.
Placing your bets on the racetrack is the same as placing them in the Main Area of betting
Neighbour bet is when you place a bet on a number, and the numbers around it are selected. The five numbers make up a neighbour bet
The paytable section defines all possible bets
There are no bets limitations if at all you will be betting within the maximum allowed limits. You can place multiple bets at the same time
Most of the buttons on European Roulette are self-explanatory. Check them by clicking on them when you are playing a free game and you will understand the game.
A Bit On The Paytable
Some of the options that you are going to work with are as follows:
Split Bet – Is when you place your chip on the borderline of two adjacent numbers
Straight Up Bet – Is the bet you will place directly on any single number
Street Bet – Placing a bet at the end of a row of numbers and cover three numbers. It can also be on "0,1,2" or "0,2,3"
You can again explore the other options on the pay-table as you play your free game and within no time you will understand all the options and win big in your play. Be a part of our online bingo site and start playing thrilling casino games, best online slots and various types of bingo games on the go!