Learn the Difference between Land Casinos and Online Casinos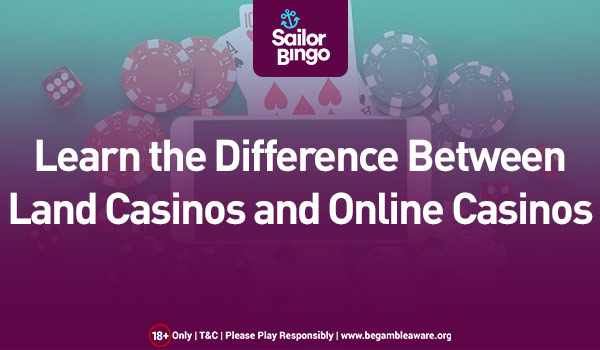 Land-based casinos and online casinos both provide players with an opportunity to gamble on their favourite games. But not everything is the same.
Land-based casinos have their own glitz and glamour. People can play with real players and a real dealer deal the cards in these casinos. Online casinos have their own advantages and players can play whenever they want from the comforts of their home. There are several differences between land-based and online casinos and it can't be decided which one is better as both have their own pros and cons.
Speed of play
The speed of gameplay is restricted by the actions of the game and the players in a land-based casino. In an online casino, you can play games like online slot, Live Blackjack, scratch cards etc. at a faster rate. The increased rate of speed for most online casino games is a good and bad thing depending on your reason to gamble. Online play is a better option if you want to put more money. But if you want to pay slower, playing at a land-based casino might be better.
Your speed of play impacts your long-term losses and bankroll. Casinos have an in-built house advantage and players mostly lose in the long run.
Technology
Technology plays a big role in both land-based and online casinos. The difference is that the technology is used in land-based casinos mainly for security purposes. On the other hand, a great deal of the technology used in online casinos is to make the gameplay possible and enjoyable.
A camera captures an image of your face and compares with people in their database in a land-based casino. The chips in the casino have a radio frequency identification device (RFID) embedded in it.
Online casinos use a software called the Random Number Generator. It uses a complex algorithm to recreate the live casino experience.
Game and seat availability
You might have to wait in a land-based casino. But when you log in to an online casino, a seat is always available. The software is designed to start the game as quickly as possible.
Land-based casinos have all types of games from Blackjack to scratch cards. Online casinos also offer a wider variety of games because they don't have limitations based on the size of the gaming floor.
The level of safety and security is also much greater online. Since these casinos attract international players, they follow laws and provide players with privacy policies which are not found in land casinos.
All your bingo games in one place
Try your luck on a wide range of exciting bingo and other casino games at Sailor Bingo UK. They offer a vast collection of quality games, friendly chat hosts, regular promotions and casino bonuses. The casino also has a free bingo room. Start your amazing gambling journey ahead- only at Sailor Bingo today. Hurry!