Most Fun Online Scratch Cards
Online scratch cards games are quite fun loaded casino games as they are based on luck and fewer strategies. Another fun thing about these games is the myriad themes that make them adventurous and interesting. Due to the growing popularity of the online scratch cards, the developers try to come up with various themes to keep the interests of the players alive.
And with new scratch card games launching every month, it's not easy for casino players to find the best scratch cards games online. Here are the best online scratch cards games from Cozy games based on the themes, fun and the excitement they build and the ease of accessing them.
Play the Most exciting online scratch cards games now!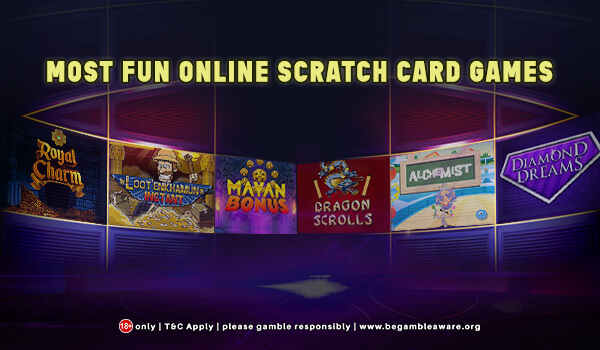 Live the Diamond Dreams
Just like the name, this scratch card game lives up to your dreams and that too with a very low risk. You don't need to pay a deposit to play this game, just set your wager which can be as low as 25p up to £2 for every game. Players even have the option to put the wager through SMS.
If at least three symbols match, the player gets 100x the wager amount and the payouts are done immediately.
Trip back to the Mayan civilization with Mayan Bonus
The game has close similarity with the ancient Egypt empire with Egyptian pyramids and tribal masks. The game design is user-friendly, and you can easily understand the game rules. You can choose how much you want to bet starting from £0.50 up to £20.
Learn the formula to make gold with The Alchemist
The game features mad scientist theme, and with this mad scientist, you must create a winning formula with the given ingredients. The game is designed with high-end graphics, which adds up to the fun. It's a very simple game and the plus point is that there's always more than one winning formula that increases your chance of winning.
Scroll down to play Dragon Scroll and win
The theme of this online scratch cards game is the drawings of the popular creatures in Chinese land like dragons, pig, goat, and horse. Each symbol has a specific payout amount, the snake being the highest with £10,000. This online scratch card game is among the best from most of the online scratch cards available on the internet.
Get set for the Royal Charm
A 3x3 card game, this is a simple looking scratch card game with no featuring theme. The slot and scratch card for this game have same game settings. The thing with this game is the risk of betting huge if you want to win huge. Players can bet starting from £0.5 up to £10.
The online scratch cards games today come with great themes, payouts, graphics, and gaming options. Players can always find scratch card online games according to the theme of their choice to try out their luck.