How Online Slots is Different from Land-Based Slots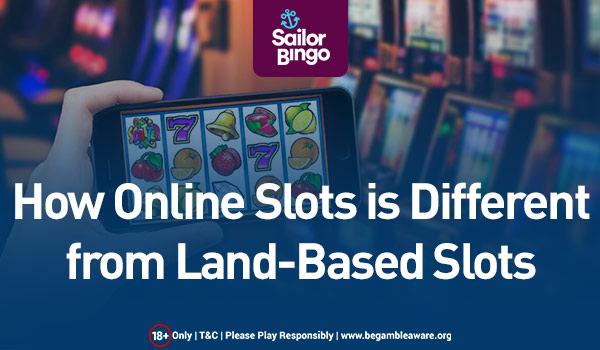 So, the polarising effect after the advent of online gambling was also seen in casino slots as well. Slowly over time, online slots made a massive footing in the online casino sector and have been thriving for some time now. But the point in question is that what is it that makes online slot games a favourite amongst players across all demographics? Is it the ease and benefits that come with this option? Well, there are several distinct points between online slot games and slot machines in land-based casinos. Let's take a close look at them.
Better payout percentage
The payout percentage in the case of online slots is better than land-based slot machines. The percentage for a payout in the case of online slot games is quite better than its land-based counterparts. Even though the payout is calculated over a longer time period and not on a random single spin, this still turns out to be one of the most promising pointers for players to go for online slot games.
Availability
Online platforms are available for playing all the time (except during site maintenance), and with it, slot games are also available to play almost 24*7 from the comfort of your home.
Moreover, with the boom in mobile gaming, the mobility and remoteness of online gambling have also shot up. So, players are not just confined to their homes but can enjoy their favourite games anywhere on their mobile devices, like on their smartphone or the iPad. They can log in and start playing the games that were only available on land-based slot machines earlier.
Progressive jackpots
One other alluring feature about online slot games is its system of building jackpots. These games are connected to a larger network of players from around the world, who play on the same platform. Every time a player loses the spin, a percentage of its bet is added to the jackpot pool. This sum keeps on adding until someone hits the jackpot and wins it all. This amount in many cases is huge and can be a life-changing number.
Games selection
Creating games for slot machines is a massive business altogether and there is a huge range of mind-blowing and amazing games available for both land and online slots. But what makes online slots stand apart is its comparatively bigger selection of games. Today, land-based slot machines are also video-based just like its online counterpart, but in a physical setting, they require space whereas the online platform does not need physical space to provide the same gaming stimulation for the exact same game, as on the land-based slot machine.
All that said, land-based slot machines still have a charm of their own and that is why there are so many dedicated gamblers who visit casinos to play on slot and experience the real-time thrill of winning a jackpot. Plus, there are still a few games that are widely popular, but exclusive to land-based slot machines.
Thrilling slot games at Sailor Bingo: A must-try!
A leading Bingo site of the UK, with a real bingo network, Sailor Bingo is a complete delight and fun platform for all the bingo and online casino enthusiasts. The site features a vast collection of games, friendly live chats, regular promotional offers and reward system. Playing with real money gets the players with a great many offers on this site along with free money for referring their friends. With a wide range of over 100 slots, scratch cards, and multiple bingo games, Sailor Bingo is the best platform for slot lovers and professionals alike.