WHO PLAYS THE MOST ONLINE BINGO?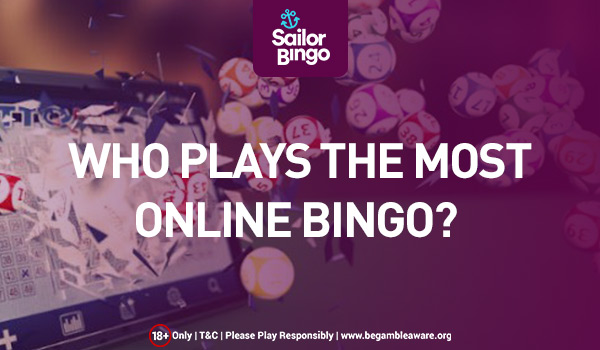 Did you ever imagine that a casino game that requires the least expertise and has simple rules could have a dominant section of fans? Well, it's none other than Online Bingo that this blog attempts to focus on. Bingo has always been a popular game; not complex as opposed to several other casino games, it has a basic layout and easy-to-understand rules. While it can be played by anyone, several surveys indicate that Online Bingo is popular among the fairer sex. Now, is that a surprise? In fact, some studies also reveal that while Bingo remained a favourite among women gamblers, men took to sports betting.
The operator's role in making online bingo a woman's favourite
While you might just be settling with those findings that sound clichéd, it appears that even at land casino establishments, the Bingo halls witnessed a greater footfall of women players. These Bingo rooms were like a place for women to meet their friends, enjoy a drink and play a line or two on the Bingo cards.
If you are still battling with that stereotype, there's more data to substantiate the assumption. Leading providers of Online Bingo games and portals that host Bingo have confirmed how most of them target women when designing these games and their websites. However, with the emerging market that reaches out to millennial breaking the pigeonholes, operators and developers have been showcasing a gender-neutral approach to attract more players. Similarly, at the Poker tables and in the sports betting domain, women participation has increased substantially. You still might spot a great deal of the pink colour on deals and promos advertising Bingo games.
The role of mobile in Online Bingo
Like other casino games creating its niche on the mobile platform, Bingo has also found its space in this expanding domain. With the reach of mobile games, Bingo is now accessible to a larger number of players worldwide. The apps make it possible for developers to launch customised games specific to players and their likes. This contributes to building better revenue sources with enhanced scope for player retention.
Notable Online Bingo brands have been targeting the younger generation of women to popularise Bingo games. Social reasons have a strong bearing on why women are inclined to playing more of this game. Surveys indicate that the simple layout of Bingo games probably makes it convenient for women, especially new mums to grab quick leisure moments at playing their favourite mobile Bingo variant.
Sailor Bingo for one and all
Finding the choicest Online Bingo at a top-notch casino is no more a challenge with Sailor Bingo right here at your service. As a hotspot offering holistic casino gaming experience, you'll enjoy every moment of playing at this premium Bingo destination. There's 90 Ball, 80 Ball, 30 Ball Bingo and newest variants for all genres of players. With more than 200 games on their catalogue, Bingo rooms for newbies and fantastic mobile Bingo games, this is the place to go Bingo! Hurry! Register now!