Gonzo's Quest Slot Game
Gonzo's Quest is one of the most popular online video slot games that you can play on your desktop or on mobile devices. There are quite a few reasons why this online slot game is so popular among the casino lovers.
Developed by NetEnt Gaming, this slot game combines the thrill of great gaming and the joy of great rewards to provide you with a fantastic experience.
NetEnt Gaming are renowned for developing some of the best themed slot games in the world, with other titles you might recognise including Guns N' Roses, Starburst, Narcos and lots more.
With a high RTP (returns to player) of around 96%, Gonzo's Quest is an ideal slot game if you are looking to get the best odds and returns in the form of prizes. Moreover, when it comes to gaming, Net Entertainment is a trustworthy brand that guarantees great gaming.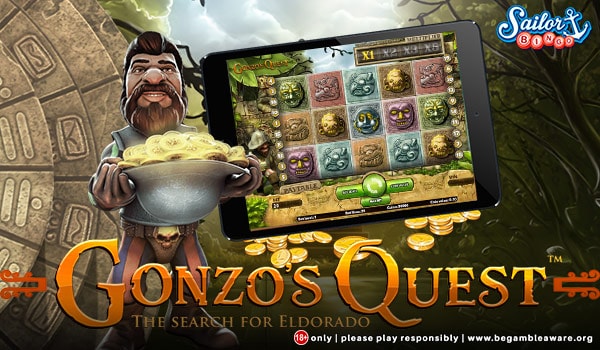 3D graphics
First things first, it's the graphics of Gonzo's Quest that makes it a touch above the other best online slot games . The slot is built with three-dimensional graphics that lends a realistic feel to it. The design of the gaming interface along with the gaming options make it more appealing. Adding to that, you have an amazing audio track.
For example, the graphics of the waterfall with the surrounding mist is something that can be called superb. The blocks in the game are also designed in a 3D manner. Overall, the awesome graphics will get you glued to this game and add to its popularity.
Gonzo's Quest is one of the few online slots that have a realistic story and theme to it. The slot also has a small cinematic introduction that makes it more realistic and offers a movie like an experience.
The plot is quite easy and instinctive to understand. The plot of the slot is based on the conquistadors of the 16th century who arrive in Peru by ship, in search of gold. The main hero of the ship named Gonzo leaves the ship in the city of gold called El Dorado. He overcomes challenges and finally reaches his quest in the city of treasure.
Rewards levels
One of the main aspects that lure users to play Gonzo's Quest is the operating system. You can play on your desktop or mobile devices like smartphones or tablets. The load time is minimal, and the advanced gaming platform ensures that it runs seamlessly on your mobile device. The slot is also quite fast paced and at each level, you get a new excitement. At each level, you come across rewards through which you can add to your prizes.
There is an avalanche multiplier feature in the slot that offers a whopping 5x multiplier on your existing reward.
Last but not the least; Gonzo's Quest consists of a host of bonus features like free spins, progressive jackpot and so on. At every level, you get a range of rewards if you apply the right gaming strategies.
Players can enjoy even up to 10 free spins and the progressive jackpot consists of a whopping 15x multiplier on your reward.
All in all, Gonzo's Quest offers splendid gaming. If you wish to play this great slot, log on to our premier online bingo site and play all the different types of bingo games and various slot games on the go! Join us now and get amazing first deposit bonus offer.
Similar games
There aren't many online slot games to match the brilliant graphics and animations, but there are a few we think you might like including Aztec Rising, Pharaoh Sun, Amazon Queen, Asgardian Stones and many more.
Check out our full range of online slot games at Sailor Bingo.