Top Reasons to Play Mobile Phone Bingo Games
Mobile Phone Bingo games have emerged as a great source of entertainment over the past few years. Though excessive indulgence would be more harmful than useful when it comes to playing mobile bingo games and you cannot deny the endless fun when you actually play them at Sailor Bingo. Still, there are a hell lot of reasons that are there for you to play mobile phone bingo. This article throws a light on some of them.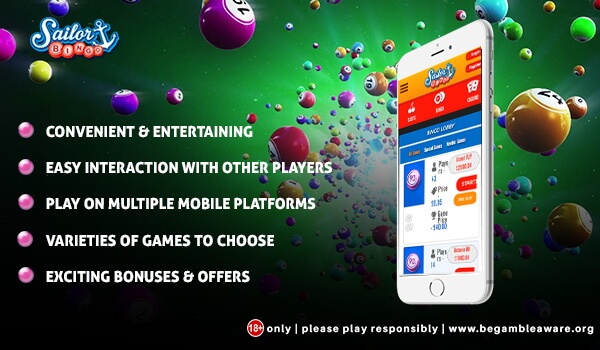 Mobile Phone Bingo lets you interact and befriend other players.
There is usually very less waiting time. This makes sure that you can get rid of your boredom at the earliest.
These games are very fun and easy to play at a reliable online bingo site.
Bingo games bring to light your old childhood memories of playing with your family. You can be miles away from your home, and still enjoy bingo games and get a pinch of nostalgia.
There is nothing that you have to do for playing mobile phone bingo games. Just buy the ticket and rest of the process is taken care of.
Just as they are on the television, bingo games bring joy as they are bubbly and vibrant.
The risk on the investment is pretty low in this case. Betting a mere 10p can fetch you as much as £40 on winning the full house.
These games are perfectly timed and there is sufficient time for every user to buy tickets.
There are multiple tables available to play on mobile phone bingo. You get a table at any time of the day you log in to play at our top bingo site.
The community of online bingo games is tireless. There are players playing at all times.
Within the bingo games, there are other games available within. These games can be online slots or online scratch cards and much other casino games.
Some users and reviewers say that bingo can serve as a good online dating site. Users can and have found their soulmates on mobile phone bingo games.
Each bingo number carries a story with itself. "Two long legs'' is used for referring to the number 11.
New users can easily learn this highly easy and fun game. They just need to register on the bingo site and the rest will be taken care of.
There is a huge list of promotional offers that are given to the users.
Multiple tables can be played at one time. This makes the gameplay even more interesting.
Bingo is a good exercise for the brain as well. It can improve memory and even your power of alertness.
A quick round of Bingo can help you relieve stress before a big interview or a meeting.
People above the age of 18 can play bingo as long as they live. The upper age limit in bingo games does not exist.
Bingo games can be played on multiple platforms at any time. This can be on your desktop, tablet and at the same time on your smartphone to increase your chances of winning.
Playing Bingo on a regular basis will help you improve your reflexes.
You can make friends from all over the world on your favourite bingo site.
Get Started
We have covered up all the top reasons to play bingo games online and also experience the different types of bingo games on mobile phones as well. Join Sailor Bingo now and get access to various games. Here is a comprehensive guide to refer while playing online bingo games.