What is Wagering Requirements in Online Bingo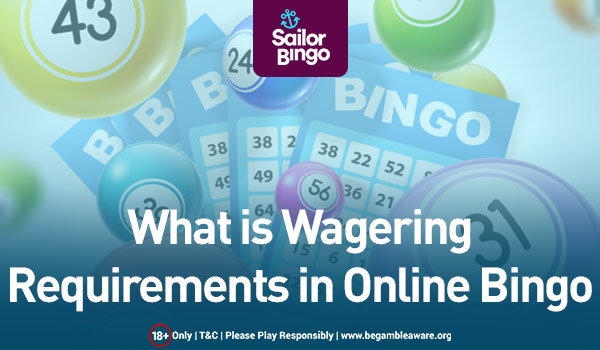 A very important term used often in an online bingo is "wagering requirements". The term is defined as the number of times a player needs to wager after which the gaming site allows him to withdraw his winning payouts. Online casinos have put wagering requirements to engage the players and keep them playing for more. This also prevents the chance of escaping after playing and winning just a game or two.
Another reason to put the limitation is to stop the money laundering. In online bingo, many players often get confused and fail to understand how to use these requirements for claiming bonuses.
How does it work?
When a player wins a session, his winning amount gets stored as a due balance along with the pending wager requirements. Now, this outstanding balance cannot be withdrawn until the player meets the desired wagering requirement as stated by the casino. Once the player has satisfied the wagering requirements, he will be able to spend his funds. Different casino sites have different wagering requirements and most of them display the requirements clearly. If still, the user finds it confusing, he can take the help of customer care services available online.
How to meet them?
The only way by which you can meet wagering requirements is to play games which offer a bonus. If you win a game session and you are rewarded a bingo bonus, you need to keep playing the game to match the requirement and claim the bonus. At your display screen, you can view all the offered rewards and bonus, and desired wager requirements. It also tells you how far are you from claiming your bonus.
However, each bonus comes with the options to accept or decline. If you chose to play for that bonus, you need to accept all the terms and conditions that come along. Once you place your bet, there is no way you can opt-out and reenter for that bonus. After you receive the bonus amount after meeting the wagering requirements, you can withdraw the pending balance in cash.
Read, understand, and progress
Wagering requirements vary from site to site and that is what makes them a bit confusing for players to understand. They often fail to decide which bonus is to play for and what other options to leave. Many sites and games have strict limitations on withdrawing money. You tend to lose a bonus if you cross your limits on withdrawing money. Some sites, however, have a clear policy on wagering requirements. It makes easy for players to watch their winnings and keep a record of cash and bonus and they get notified about any other necessary wagering.
But as you know, online casinos and game developers want to keep the players interested and engaged in game sessions. For doing so, they keep changing the wagering requirements according to the player's wallet. This interests the players and they keep playing for more.
Those who are interested in playing for the big bonus will eventually know that to earn considerable winnings, you need to stay calm and patient. Spend some time in front of your screen, read the bonus terms and conditions and you will eventually understand the norms of the game. So, to progress at online bingo games and win several bonuses, you need to keep a check on the wagering requirements and read the terms and conditions thoroughly to withdraw your pending funds. You can also wager at free sites to get a closer look at playing with wagering requirements and make your winnings count. Good luck there!
Nothing beats Sailor Bingo!
Oh yes, Sailor Bingo offers all the bingo lovers with a diverse variety of exciting online bingo games accompanied by eye-catching bonuses and promotions. The bonus terms and conditions at Sailor Bingo are crystal-clear thus helping players to make the most of the bonuses offered. So, what are you waiting for? Visit Sailor Bingo today!