What is Multi-Stake Online Bingo
Multi-stake online bingo is a popular variant of this game that allows participants to buy at various stake levels ranging from lowest stake cards to highest stake cards. This doesn't mean that the lowest stake cards will have any less chance of winning the game as compared to highest stake cards, what differs is the price amount which is usually a multiple of the stake. You don't have to stay away from your favourite game just because your budget is different than that of the bingo game being played, everyone can participate in
online bingo
as per their budget.
How can players get most out of playing multi-stake online bingo?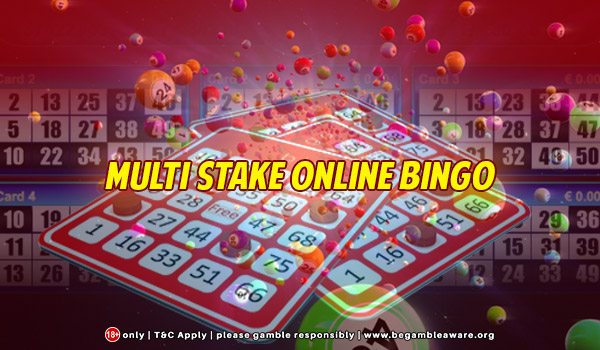 A reasonably new game, or a modification to the old bingo, multi-stake bingo aims to make the game enjoyable for as many bingo lovers as possible by allowing different levels of the stake. According to your budget, you can go for low-stake or high-stake tickets and play games. Although, mixing tickets is not allowed but you can change the stake while playing different games. For an example, if you buy the 20p tickets then you can't buy some 30p tickets in the same game. For that game, you will be stuck at that price level. Once the bingo game ends you can switch to other stake levels.
In the recent years, many online sites have come up that offer multi-stake online bingo with a wide variety of themes and plots, each site trying to offer unmatched and attractive games which draws gamblers like bees to honey. The ranges of games offered are not just for professional gamblers but also for players new to this game.
The unlimited entertainment that this game provides along with the enticing prizes makes bingo one of the most loved games, and with bingo going online, the comfort factor has taken the popularity of this game to an altogether whole new level. The only downside to this is that not many good multi-stake online bingo games are available as compared to its more traditional version.
How does the prize system work?
It can be confusing to understand the working of the prize money system in a multi-stake online bingo game. It's reassuring to know that it isn't that complicated. The first thing to clear this confusion is that someone playing with a ticket of 10p is not playing for the same price as someone who has a 50p ticket. The prize is decided as per the value of the tickets.
Sailor Bingo provides a great platform to play multi-stake Bingo games and various others Bingo versions. So, what are you waiting for? Register yourself today to gain access to this unlimited entertainment, pay by mobile phone method and much more entertainment.