Top celebrities who love playing Bingo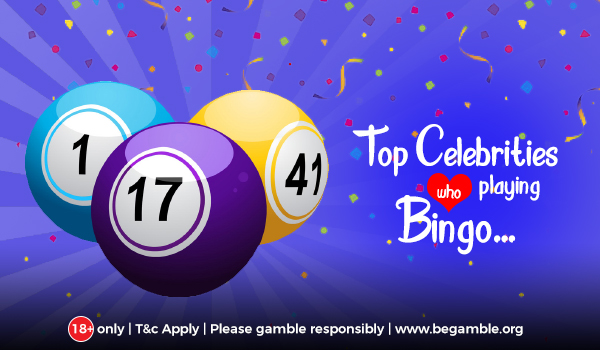 Bingo is a game loved by all classes of people; young, old, working or studying. The reason for such unconditional love from the masses is its entertainment factor. The game is easy to play, requires very less or no efforts and brings a smile on the face every time the called number matches a number on your card. It is some of the very few games that can be played socially at any public place. The immense popularity of the game took Bingo from a weekend pass-time game to the anywhere, anytime accessible medium of online casinos. Moreover, unlike other online casino games like online slots and table games, Bingo is mostly offered for free. You will not be asked to make a deposit before you learn how to play it. Therefore, now that it has become so available to people from all regions, it comes unsaid that the reach of the game has gone multi-folds. Even some of the top celebrities have joined the league of Bingo lovers and if you didn't know about that yet, be ready for surprises ahead.
Courtney Cox
There may be a million other reasons for loving Courtney Cox, her hilarious character in the famous classic tv series 'FRIENDS' or the fact that she was obsessed about cleanliness and cracked the audience to laughter, she also is a big Bingo lover. One more reason to love her, isn't it? Famously known by her fictional character name 'Monica Geller' may not have been seen playing Bingo in the TV series but there have been reports that she hosts house Bingo parties. Would you like to know the guest list? Paris Hilton, RIckki Lake and many more. Apart from the name and fame, there seems to be a lot common between the celebs and commoners.
Prince William and the Queen of England
It is really hard to even guess what the royal family might be doing on a leisure day. However, you will take a sigh of relief when you will know that the supremest of the legacy, Queen Elizabeth and Prince William also love the same game that apparently everybody loves to play, Bingo. This is not a wild guess, rather there are reports to support this claim. There have been multiple instances when the young Prince of England was spotted inviting his friends to the Sandhurst Military Academy and enjoying the delightful game of Bingo. The Queen herself calls for Bingo parties when it is Christmas time.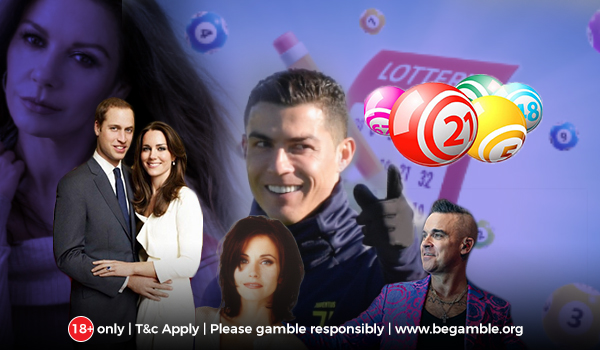 Robbie Williams
Although it might not seem like the best combination looking at the masculine persona of Robbie Williams and the sweet gameplay of Bingo, the love between them has been witnessed by the whole world now. The internet is full of pictures by the paparazzi that show him playing 90-ball Bingo at a Bingo hall. His Bingo love caught the eyes when he got into a controversy for behaving rudely at Bingo hall. Ever since then, he has been attending Hollywood hosted Bingo parties and donating his winnings for charity. The boyband split singer now has an open connection with Bingo is known as one of the most renowned Bingo players of Hollywood.
Catherine Zeta-Jones
Talking of the famous Bingo players of Hollywood, Catherine Zeta-Jones(wife of Michael Douglas 'actor'), mostly known for films like Intolerable Cruelty(2003), The Mask of Zorro(1998) and Entrapment(1999) tops the list. She along with her husband are known to host 'Bingo parties' at their homes. Her love for Bingo has been there since her childhood when she used to play the game in the valleys of Whales. The best example that shows her immense love for the game is that she has her own set of Bingo cards that she updates every Christmas.
Cristiano Ronaldo
The last celeb featuring on the list might also be the most surprising celeb on this list. Soccer god to many, best footballer ever to others - Cristiano Ronaldo - happens to make up to this list of Bingo lovers. Although it might be hard to imagine him as a Bingo player, the Juventus and Portugal based footballer has himself admitted his love for this game. Fortunately enough, Bingo happens to be the second ball game that the Read Madrid striker loves to play. His love for the game flourished when he was asked by his manager in the year 2003 to improve his English speaking skills. Surprisingly, out of all the techniques in the world to learn English, he decided to play Bingo for improving his control over the language. He was handed over a DVD version of the Bingo that would instruct the game in English and it is then since the footballer has been playing the game of Bingo. When asked by a news agency about how did he find Bingo to be, CR7 said, "It can be very exciting".
The description of Bingo by Cristiano Ronaldo can very well be considered as apt, as, although the game is simple to play, the number of eyebrows that rise when a number is about to be called is countless.